Homes with Pools in Westchester County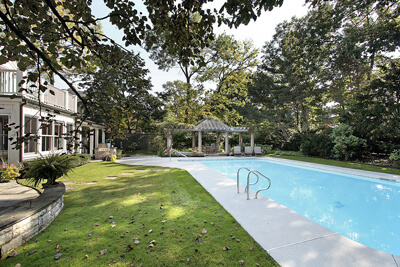 There are hundreds of homes with pools available for sale in Westchester County at any given time. The great news is that they can start under $400,000. Of course there are townhomes in areas such as Walden Woods, Hunters Run, or The Willows that have community pools, but you can occasionally find single family homes with pools in Greenburgh, Cortlandt or Lewisboro, on the market as well at this price point. Stretch the budget up to $600,000 and you have dozens more!
The price points over $1M provides the largest selection of pool homes for sale in Westchester, with over 300 luxury pool homes currently on the market. Read on to learn more about the homes you might find in various price ranges. View the most recent active MLS listings for homes with pools for sale in Westchester County, now...
Sign up to get notified when a new single family home with a pool comes on the market.
Homes with Pools for Sale in Westchester County NY
April 9, 2020
$1,770,000
Med. List Price
Westchester County Homes with Pools by Price Range
Homes with Pools Under $1M
Call Hire Realty LLC today, to arrange private showings of homes with pools that are for sale throughout Westchester County.
914-598-2386
Westchester County Homes with Pools for Sale for under $400K will likely need your personal touch. They could be "sold as is" properties, but that doesn't necessarily mean you will also need to work on the pool.
From $400K to $600K, you will typically find dozens of homes with pools for sale in Westchester County. Again, you will find some very nice townhouses with community pools in complexes such as The Willows or Lyon Farm Village, or single family homes with in ground pools in areas such as Yorktown, Pound Ridge and other areas of Westchester. Some of these homes may be for sale "as is", meaning that due diligence should be done by you as a buyer, and you can expect to see some homes that may be in need of your tender care. At the higher end of this price range, you will find homes with pools for sale in Westchester County, where the houses have already been renovated or updated and are turnkey ready.
You will find even more luxury homes with pools up to the $1M price point. These homes can sometimes need some upgrading but are for the most part move in ready, with nicely landscaped grounds, in-ground pools, and a little more space to roam.
Homes with Pools for Sale in Westchester County Over $1M
Homes with pools for sale in Westchester County offer a much larger selection of properties, beginning at the $1M price point, and you will find them throughout the county, including Scarsdale, Somers, Greenburgh and other areas. These homes can be in high end subdivisions such as Pleasantville Country Club or Wykagyl Park, for instance, but often are on private properties situated on an acre or more of land. Here you will find lush landscaping, in ground pools with sundecks, often with cabanas and lots of outdoor space for lounging and entertaining. Styles run the gamut from Center Hall Colonials. to grand English Manors, and you can find all this for less than $2M. These homes will typically be move in ready, with at least 4 -6 bedrooms with as many baths, but you will sometimes see a 7 bedroom home at this price point.
From $2M to $22M, you find the largest selection of homes with pools in Westchester County. You can expect to see grand estates where the homes feature beautifully equipped chef's kitchens, luxuriously appointed baths, and at least 3 , most typically 4-7 and as many a 11 bedrooms. Square footage at this price point is generous, from around 4,000 square feet up to a sprawling 21,000 feet of luxury living. Westchester County homes with pools in this price range, particularly over $5M, will often be waterfront homes.